Dizzy was a little 15 year old Chihuahua who was dumped and abandoned in a supermarket car park and left to fend for himself. He was in an appallingly poor condition, dirty and unkempt, unable to walk or see and with infected eyes and mouth, he would not have survived alone.
We were privileged to have given him a safe and happy home and showered him with love and affection before he very sadly died on 26th July 2016, leaving a huge gap in our lives.
Dizzy Chihuahua Rescue was set up in Dizzy's memory, to keep this very special little dog's name alive and to help little Chihuahua's in need.

Name:  Demi and Beau     
Age 10 & 12
Sex: Females
Likes Dogs: Yes small dogs their own size
Likes Cats: Yes have lived with cats
Housetrained: Yes but will need time to adjust and get used to their surroundings
Info: Demi and Beau are absolute darlings, they are quiet, affectionate and love their cuddles and treats, they are quite chilled when settled. They are a bonded pair having lived together all their lives and are devoted to each other, Both are nervous,  Beau is such a caring girl , she stays close to Demi to look after her and protect her. They are not used to walks outside and tend to like the familiar surroundings of their home and garden. We are looking for a calm and peaceful forever home with a secure sunny garden, where Demi and Beau can feel safe, secure and be loved and cherished. Someone will be very lucky to adopt these adorable sweethearts, they are as good as gold and an absolute dream.
Polly is looking for a special Chihuahua Rescue Angel who can offer her a quiet, calm, loving home for the rest of her life, who will feed her a healthy diet and give her all the love and attention that she needs. POLLY will remain a DCR dog and the rescue will be responsible for her Heart medication vets fee's.
Name: Polly     
Age: 12
Colour: Black/Tan/white
Weight: 2.9kg     Sex: female
Likes Dogs: Yes small dogs her own size. is afraid of big dogs
Likes Cats: Yes has lived with cats
Housetrained: Yes 95%
Lead Trained: No is nervous outside     
Info:  Polly is a quiet, reserved and gentle little dog with an inquisitive mind and loves her cuddles although she can be nervous until she settles. She is not used to going out on a lead and is happy to explore and exercise in the garden or to sit and enjoy the sunshine. She loves to burrow under her blanket and sleeps well at night. The vet said that they have all fallen in love with her as she is such a sweetheart. Polly gets on with other cats and dogs and will make the most delightful addition to any loving family.
A recent heart scan diagnosed her with an age related grade 5 heart murmur, but this is under control and she is now on medication to help this.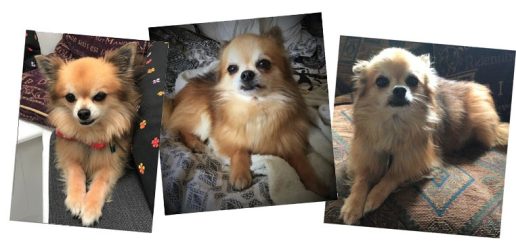 Name: Oscar (Breed :Pomchi)
Age: 8-9
Colour : Red/Sable
Sex :Male
Likes dogs: Yes
Like cats:  Yes but will chase
House trained: Yes
lead trained: Yes loves his walks
Info – Oscar is a very happy and affectionate dog, he loves people and his walks and will be your best friend and constant companion
Some of our Dizzy Chihuahua dogs successfully rehomed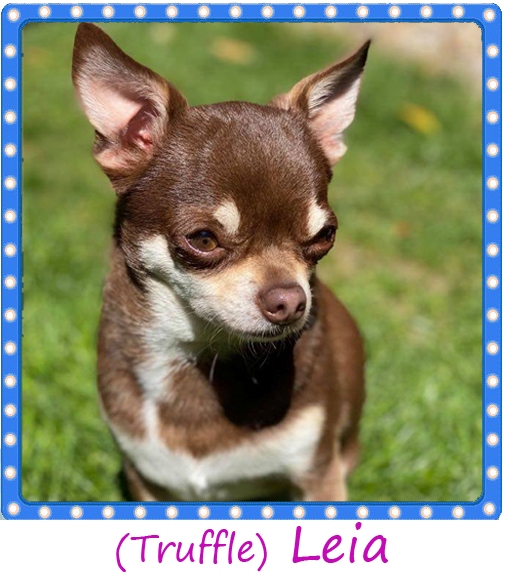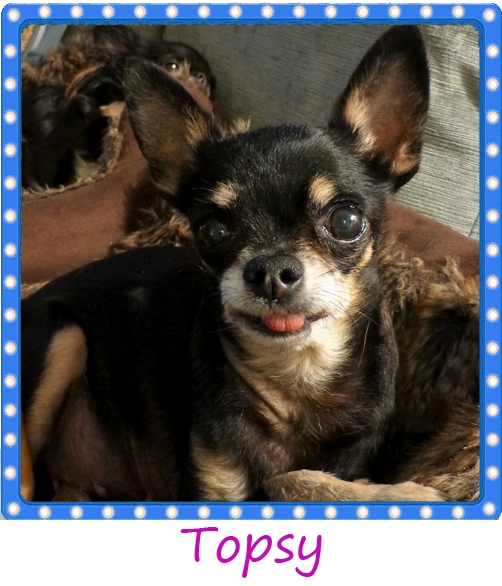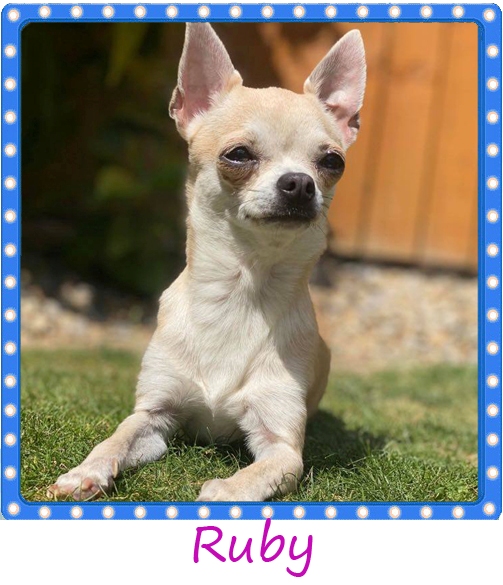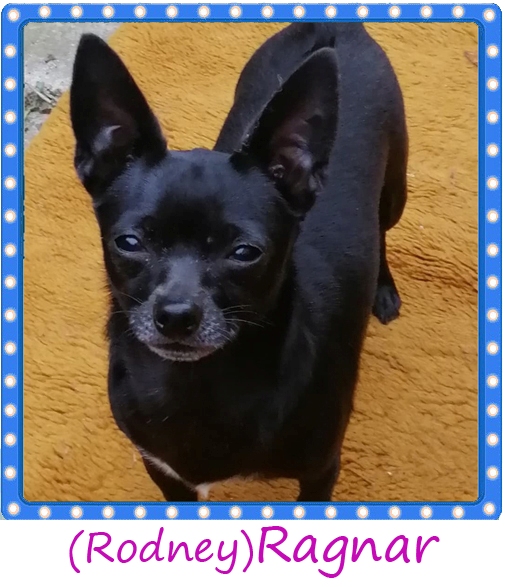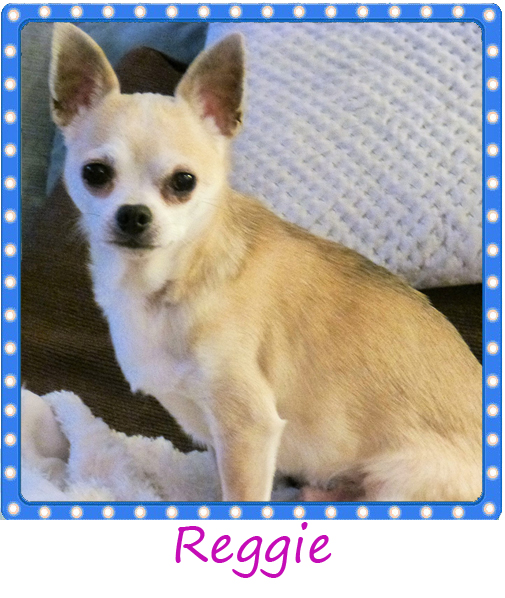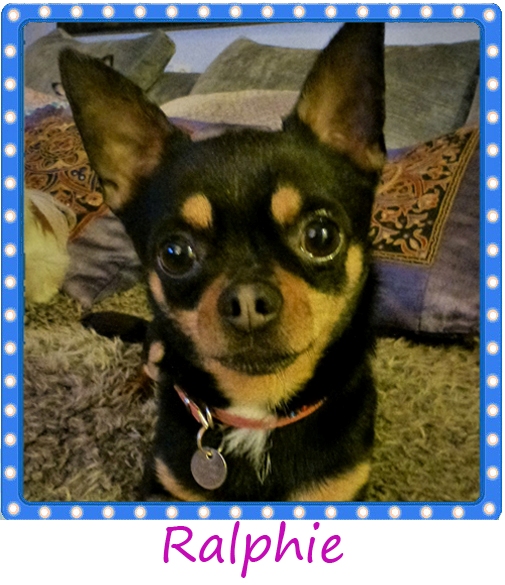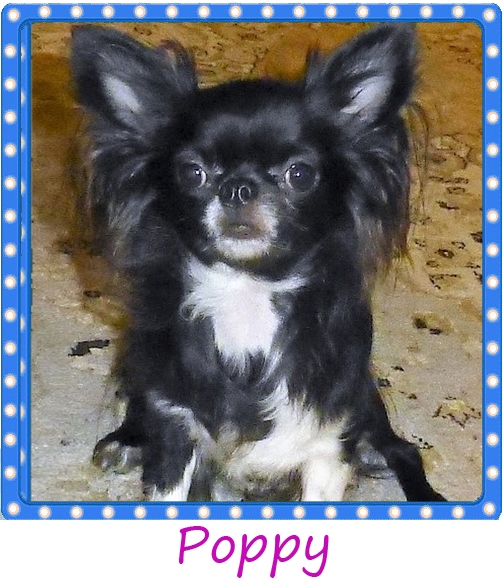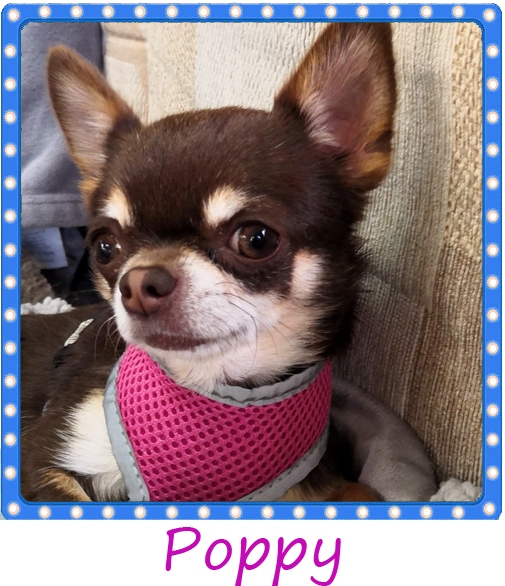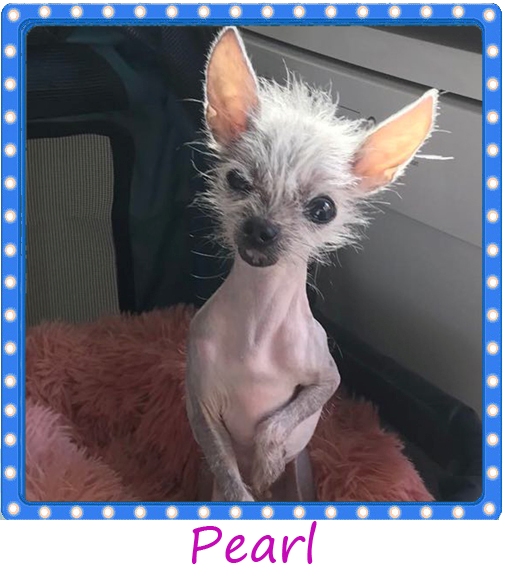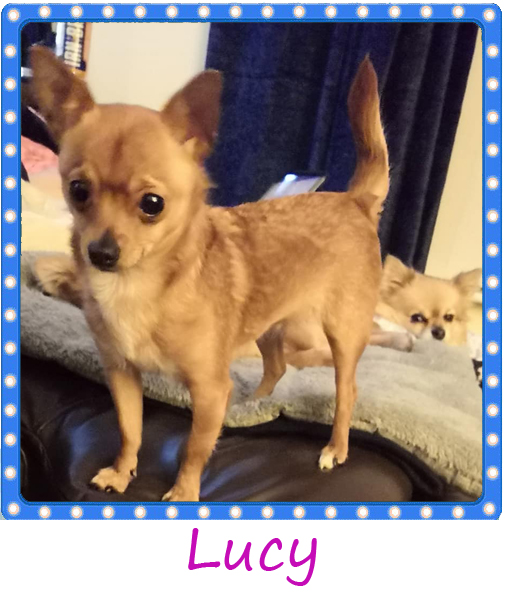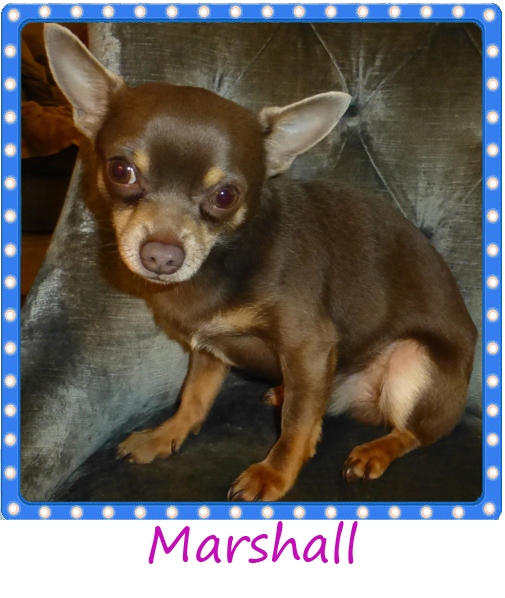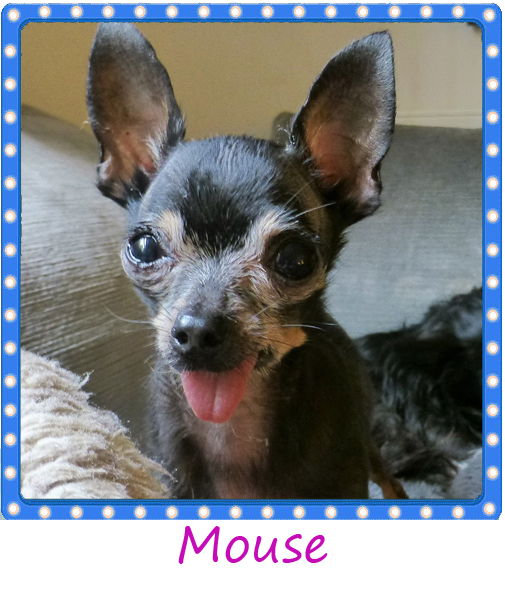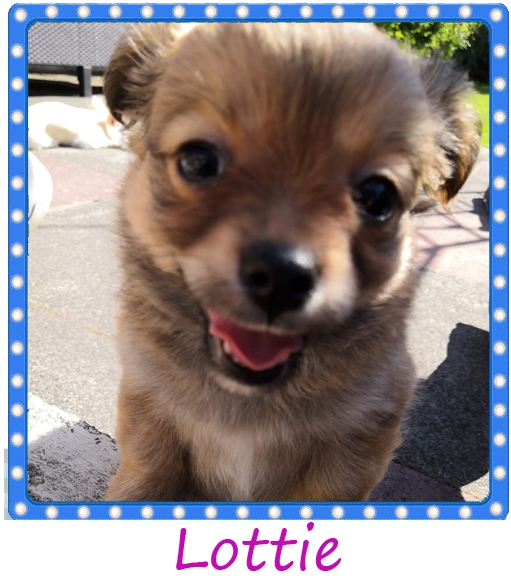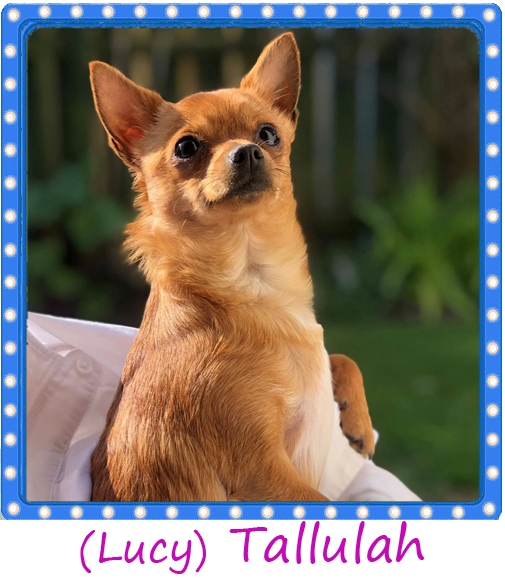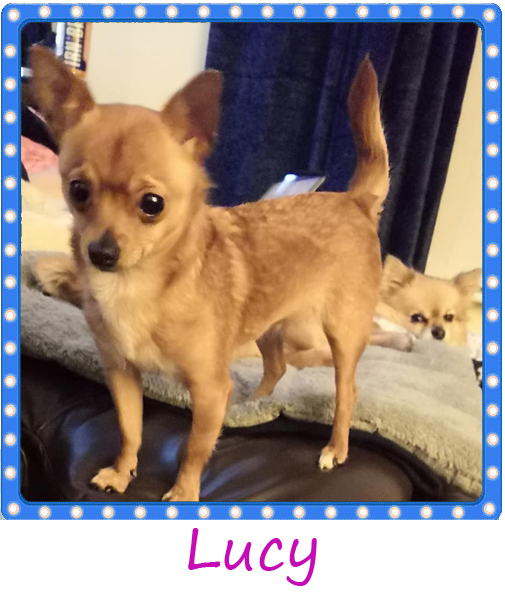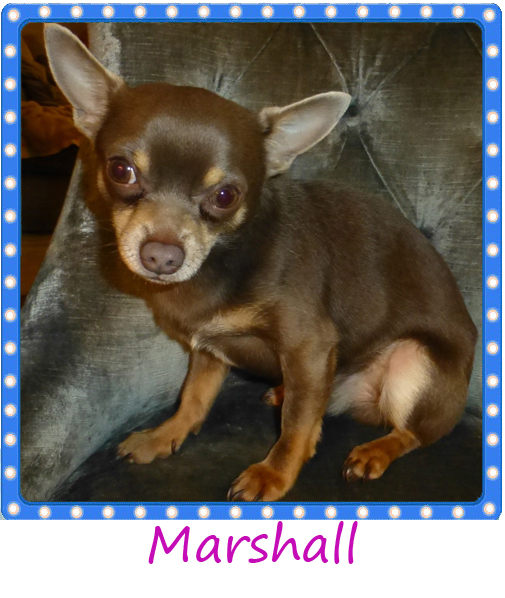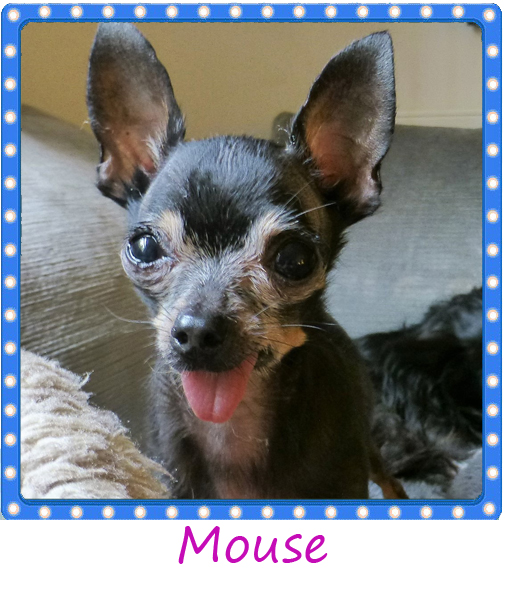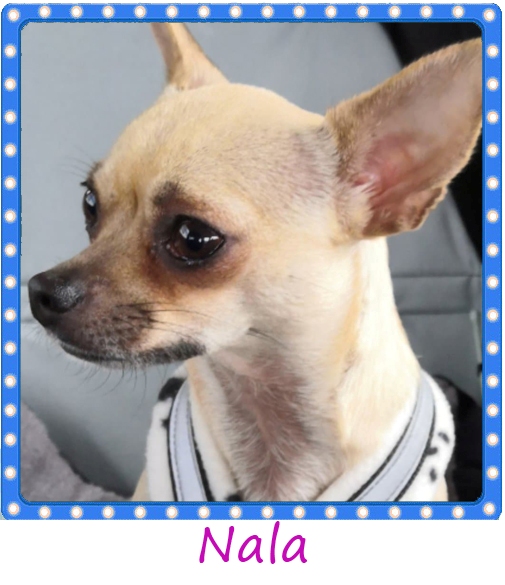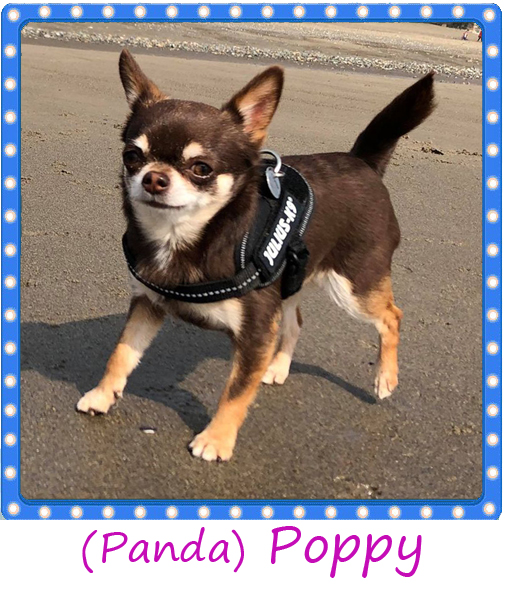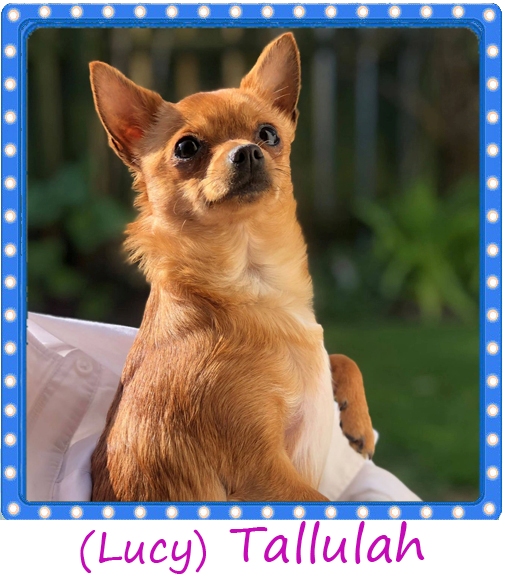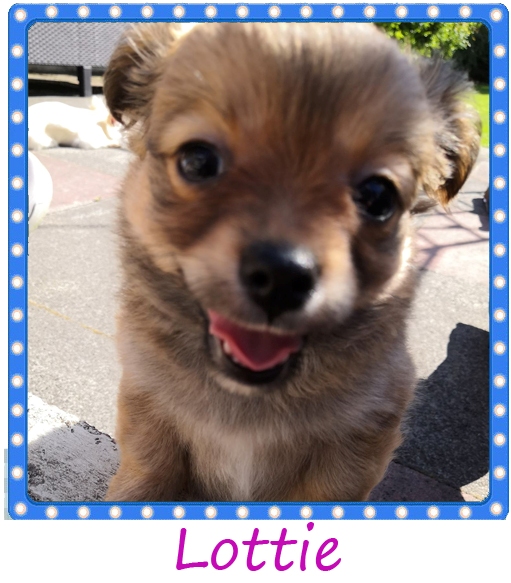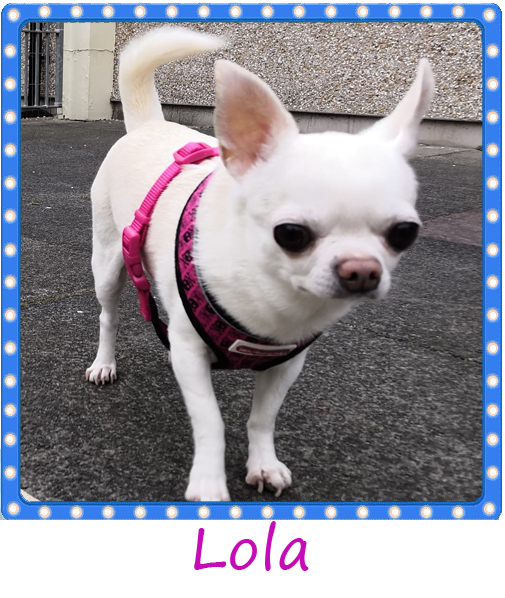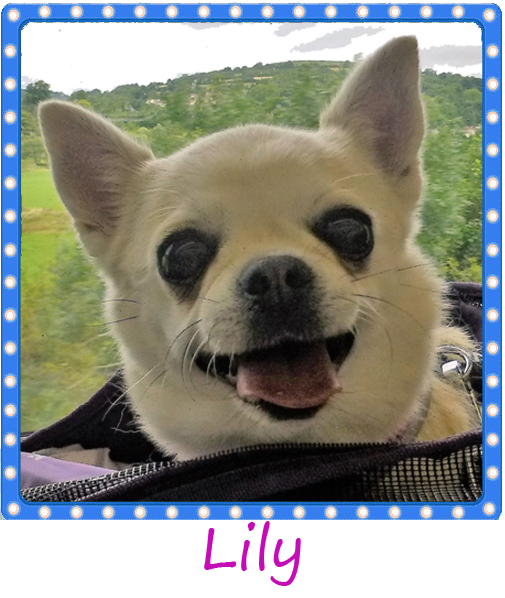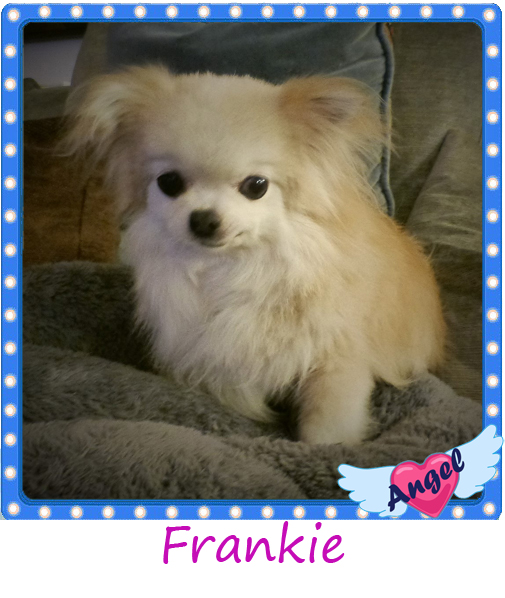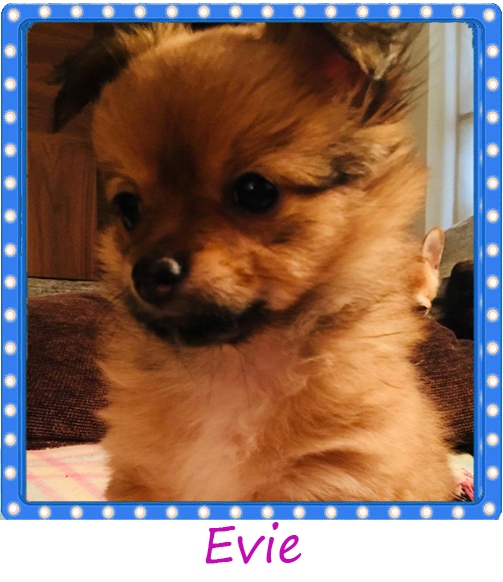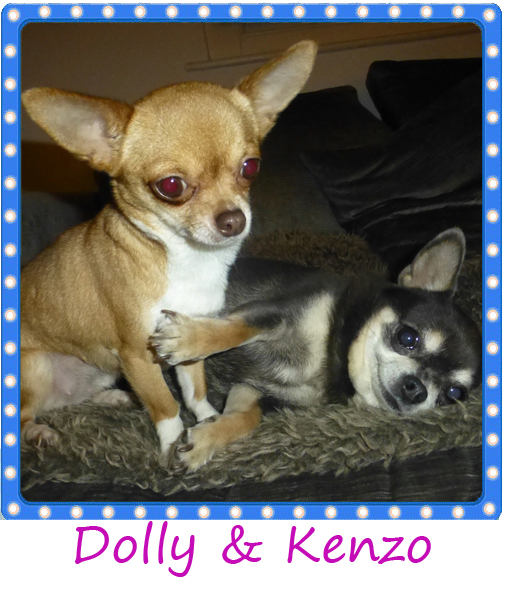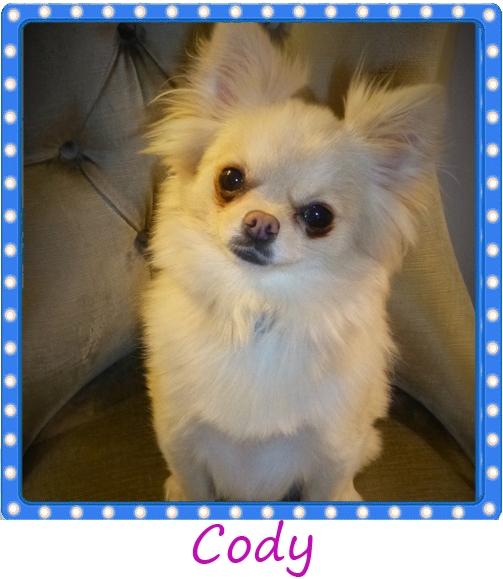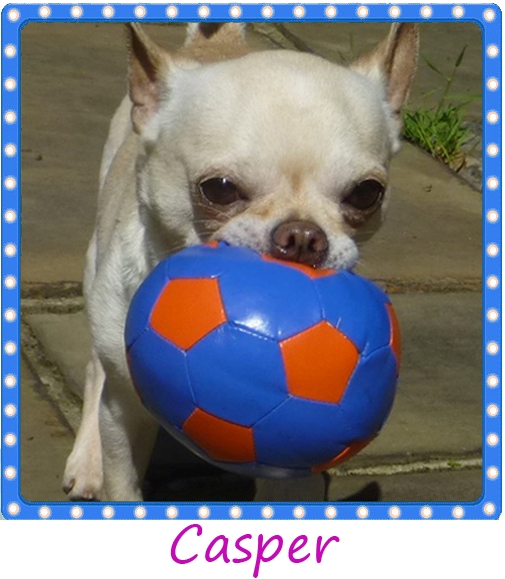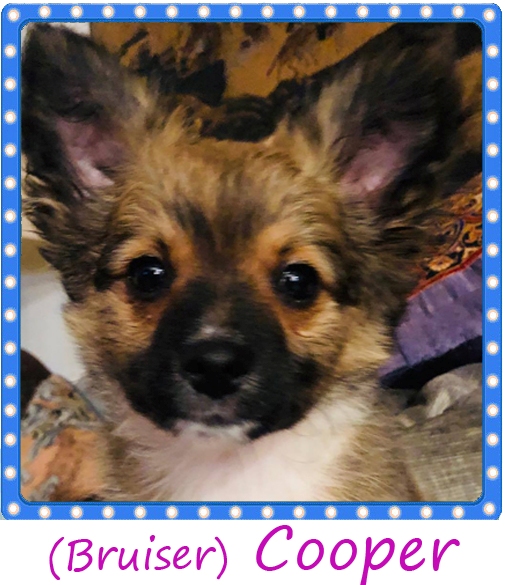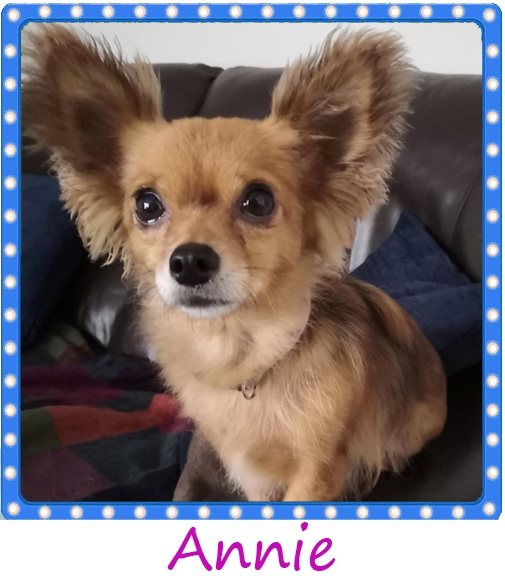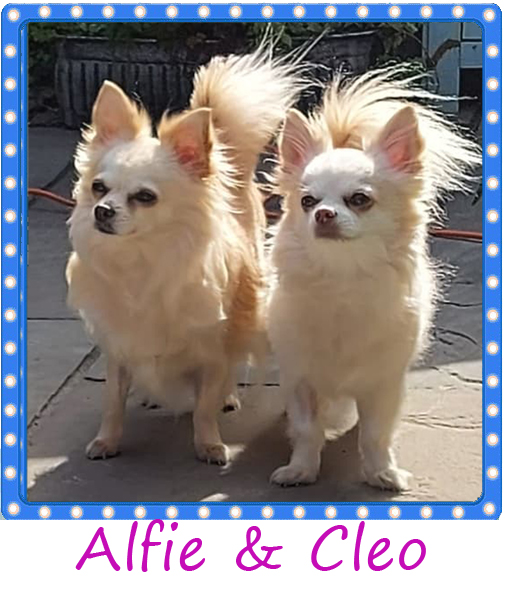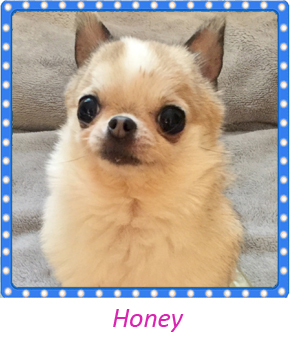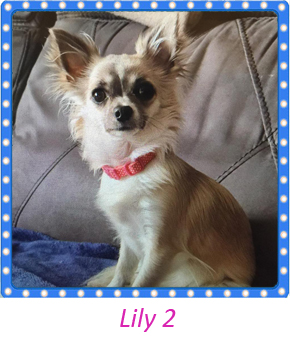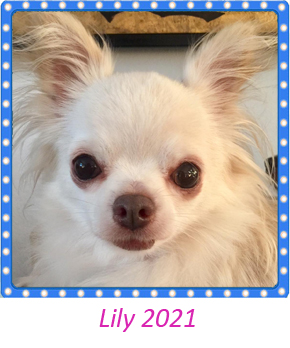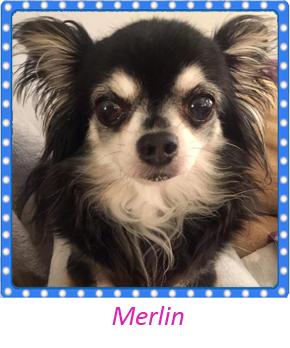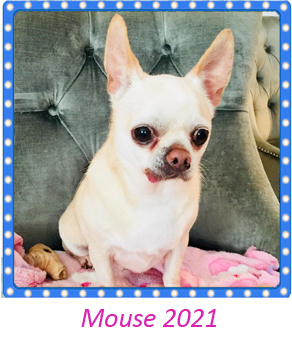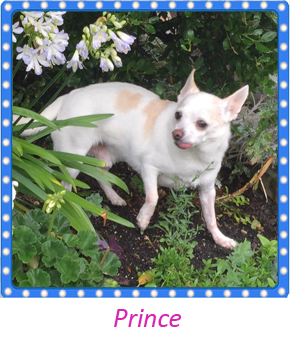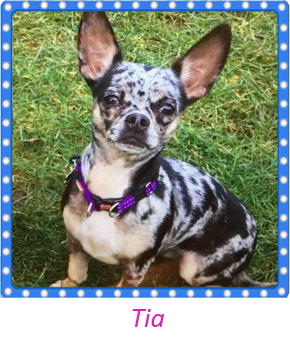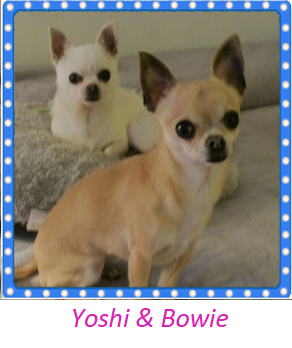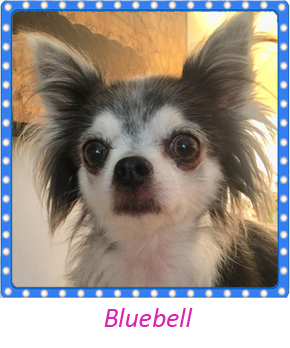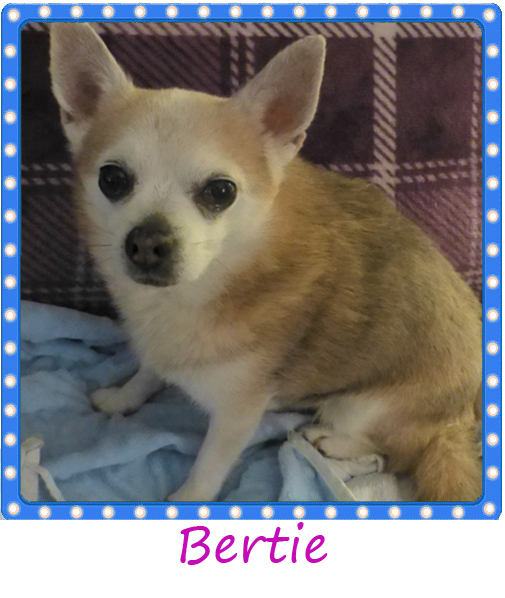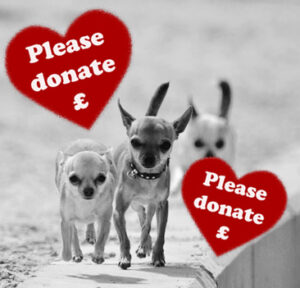 Pet rescue is very expensive and we do not receive any government funding. We rely on funds and donations to help cover the costs of vaccinations, dental treatment, neutering and spaying, transportation and other veterinarian fee's for Chihuahua's who come into our care.
We will only rehome a dog once it has been fully assessed and veterinary checked. We endeavour to send our dogs to their new homes, well balanced, rehabilitated and healthy.
Sadly, this is not always possible and occasionally we have dogs with ongoing medical conditions.
Thanks to our supporters, we are able to fund these dog's vet and medication fees for the rest of their lives. These dogs remain Dizzy Rescue dogs but are cared for by our DCR Angels.
Sponsor a Dizzy Chihuahua dog
Buy a Dizzy Chihuahua Rescue Bandana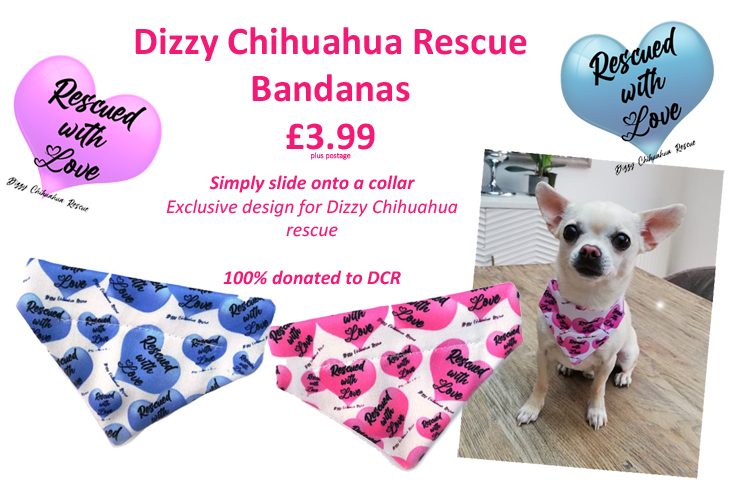 Easyfundraising - Donate as you spend!
It's simple . .  Just visit retailers and shop online. The retailers will then make a donation to us to say Thank You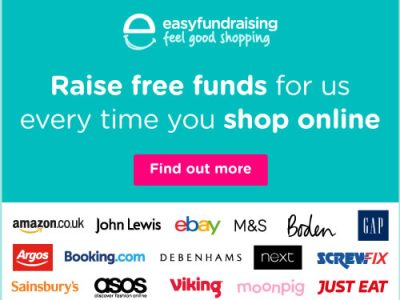 Making a donation in your Will
A Donation to Dizzy Chihuahua will help up rescue little Chihuahuas in need. A donation big or small will make a huge difference to a Chihuahua's life.
Already made a will?
It is easy to add a gift to Dizzy Chihuahua Rescue. A codicil is a good, inexpensive way to add a donation to Dizzy Chihuahua Rescue while ensuring the other provisions remain untouched. This way, you won't have to pay for your will to be completely rewritten
Donate NEW and USED dog items
Any items whether NEW or USED (good condition) are very welcome at Dizzy Chihuahua Rescue.
Some items will be given with care packages to accompany our rescue dogs in their new homes. Some items will be sold through our Dizzy Chihuahua rescue EBAY site  and some of the NEW items may be used in fundraising raffles
Please contact us if you have items to donate.
Single or regular gift donations
We are always grateful for any donation, big or small.
You can donate via our paypal :  DizzyChihuahuarescue@hotmail.com     .     HOW TO SEND MONEY via PAYPAL DCR
Please make payments using 'friends and family'then we do not incur fees
You can also make a donation by bank transfer to
METRO BANK (Kings road) Account number 30572051 / sort code 23/05/80
Frequently Asked Questions
How do I apply to rehome a chihuahua from you? You need to download and fill in the application form. Once you have done this, please scan it or copy it and email it back to Dizzychihuahuarescue@hotmail.com. Please make sure you write the name of the dog you are applying for in the top box of the form.
CLICK HERE TO DOWNLOAD AN ADOPTION APPLICATION FORM
Why am I unable to fill in the application form on my phone? Unfortunately, our forms are unable to be filled in on a phone. We hope to resolve this issue, but for now, you will need a computer to do this or you will need to be able to connect your phone to a printer. You can then scan / photograph the form and email it back.
I need to rehome my chihuahua, can you help? Yes we can help. If you can send an email with "I WANT TO REHOME MY CHIHUAHUA"  in the subject line.
CLICK HERE TO DOWNLOAD A DOG RELINQUISHMENT FORM
What is the process for rehoming my dog with Dizzy chihuahua Rescue? We appreciate that making the decision to rehome your beloved Chihuahua is a difficult one. We will always try to help you through this challenging time and guide you through the stages with love and compassion.
Send us an email with your name, phone number and a few details of the dog(s) you wish to rehome. Send this to Dizzychihuahuarescue@hotmail.com. In the subject line, please write "I WISH TO REHOME MY CHIHUAHUA" That way, it will get priority attention from us.
We encourage you to be 100% open and truthful, we will never judge but it is very important that we know everything about your dog to be able to give you best advice for your situation and to be able to make arrangements for your dog to be placed in the correct environment suited to its needs.
We will email you a relinquishment form and once filled in, just return it. You can also download this form on the website
Where are you based? Do you rehome anywhere in the UK? We are based in London, but have DCR Foster Angels in different areas within England. We only rehome in England.
Is there a fee or payment to rehome a Dizzy Chihuahua? There is a non refundable donation of £300.00 per Chihuahua. The donation doesn't buy the Chihuahua.  As we are a non profit organisation, the donation goes towards transportation and ongoing expenses  for all dogs in our care, veterinarian fee's for spaying, neutering,  vaccinations, microchipping, dentals and any other medical conditions and needs.  We personally are not paid for the time and effort that we put into the rescue, we do this voluntarily for the good of the rescue and to improve the lives of Chihuahua's in need.
I don't have any time to care for a Chihuahua myself but I want to help?  You can help in many ways, make a one off donation, sponsor a pet, send in a raffle prize. We appreciate every effort made no matter how small. Every penny goes to the little Chihuahuas and every penny is important!
How can I donate money?  You can donate by sending us a cheque or postal order Payable to Dizzy Chihuahua Rescue.  Please post it to – please contact us for address
We are always happy for any donation big or small. A few pounds a month may seem small, but will contribute to a pups food or treats.
You can donate via our Paypal:-  Dizzychihuahuarescue@hotmail.com Please make payments to 'friends and family' and then we do not incur fees.
CLICK HERE TO SEE OUR EASY GUIDE TO SENDING MONEY via PAYPAL
Or send us a donation by bank transfer to Metro Bank (Kings road) Account number 30572051 / sort code 23-05-80
Can I apply to rehome a pet if I have children? As a rule, we do not rehome to households with children under the age of 10. That being said, each dog is different. Some dogs have lived with children and will be fine, others may not. We assess each situation and dog individually. Please make sure you fill in the application form fully so that we may do this.
Can I apply to rehome a pet if i live in a flat? We assess each situation and dog individually. Chihuahuas are great dogs for people with small homes. As long as you can exercise and walk them daily and offer them a rich and fun environment inside the flat, we are happy to rehome.
I already own another dog, can I apply to rehome a rescue dog from Dizzy Chihuahua? We assess each situation and other dogs in the home individually. Many dogs enjoy the company of others and a big part of the assessments with our dogs is to determine whether we feel they would like to live in a home with another dog or on their own.
Are there any other restrictions to rehoming a dog? We do not rehome our little Chihuahua's with any other unsprayed or unneutered dogs or cats.
I need help with vet bills, can you help? We are currently a very small group with very limited funds. We hope to do so in the future but at the moment, we are unable to offer this kind of help.
I only want to rehome a Chihuahua of a certain age / sex / colour? Can I choose?  Because of the nature of animal rescue, we cannot predict what animals which may come to us looking for new forever homes. We will take into consideration your requests but our priority is the happiness and welfare of each dog.
What happens if I don't get along my rehome dog or if we have problems? Dizzy Chihuahua rescue will always take an animal back if the re-home is unsuccessful. In fact it is one of the conditions of rehoming a Dizzy rescue dog. We do not allow the 'selling on' of our pets.
What is the home check for? We carry out home checks to make sure your home is suitable for one of our re-home dogs to be safe and secure. We will advise you if we think changes need to be made to satisfy the requirements. Once these changes are made, we will be happy to place an animal with you.
Can I leave my animal with you when I go on holiday? No we are not a kennels or pet boarding facility. We do know a number of boarding facilities around the country that are very good and are happy to provide you with details.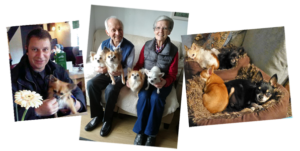 I would like to foster animals for you. How do I apply?  Please fill in our foster application form.  Once we have had a chat and carried out a home check, we will discuss with you the fostering process. We are always looking for good foster homes.
CLICK HERE TO DOWNLOAD A DIZZY CHIHUAHUA RESCUE FOSTERING APPLICATION FORM